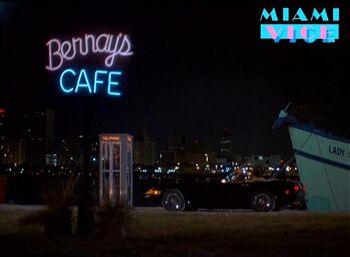 Personal Information
Real Name: Leigh Burne
Age: 23
Hometown: Chipperfield, England
Occupation: University student
About Me: I'm a student, so obviously I waste a whole load of my life watching DVDs. Otherwise I spend my time buried with coursework or out around town with mates. Outside of university it's more of the same; seeing mates and/or going out. I wouldn't call myself sporty per se, but I love swimming and I'm an avid skiier, even if I don't get to do it all that often. I don't graduate university for another year or so, but when I do I hope to go travelling.
Miami Vice Stuff
Favourite MV episode: Loads of great ones but "Out Where the Buses Don't Run" definitely tops the list. The "Brothers in Arms" sequence at the end is fantastic, and it also happens to be my favourite song.
Favourite MV character: Castillo. Pure badass.
Favourite MV vehicle: The Daytona. Even if the one in the show was a fake, it's so much cooler than the Testarossa. One of my dream cars!
Favourite MV storyline: The Sonny Burnett Arc. I know a lot of people say it's far fetched or just plain daft, but face it, Don Johnson makes a great villain. He's really menacing when he wants to be.
The Stuff I Own
These are the various bits and pieces of Miami Vice media I currently own.
Other Stuff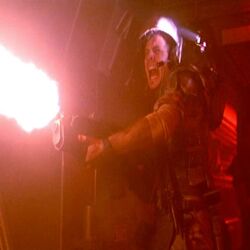 Movies: Action, crime, thrillers... Aliens is easily my favourite all-time flick. Pure undiluted awesomeness from beginning to end. And of course Scarface, the greatest piece of 80s memorabilia after Miami Vice. As for the best of the British, Dog Soliders has got to be the greatest beers-with-the-lads movie ever made.
TV: Miami Vice, obviously. The new Battlestar Galactica was amazing, even though it's not at all the kind of thing I usually like, and of course it had Edward James Olmos playing a badass of Castillo proportions! I really liked the first season of Michael Mann's Crime Story too, but I thought the second season was a massive disappointment. And though it shames me to say it, I usually find time for a bit of Hollyoaks. (I'm a student - it goes with the territory. As for those of you who are American and don't know what Hollyoaks is, that can only be a good thing.)
Music: Rock, mostly 80s stuff, none of this modern emo or R&B crap. Queen is easily the greatest band of all time in my opinion, but I also love Gary Moore (of Thin Lizzy, who are also amazing), Rainbow, Eric Clapton, Dire Straits and plenty more.
Books: Crime thrillers or war non-fiction. Or something darkly comic. Recently I've taken to reading all of Fleming's 007 novels.
Video Games: TimeSplitters and Grand Theft Auto... Not surprisingly Vice City tops my list of the latter series - could it get any more Vice? Best game ever made is Uncharted 2 as far as I'm concerned, it just felt like they'd put 110% into every single part of it. And I've gotta mention the masterpiece that is Perfect Dark on the N64.
Magazines: Tend not to waste my money, but FHM if I'm going on a raod trip or something. Hey, I'm a guy.
Snacks: Depends what mood I'm in but probably Chinese.
Drinks: Anything with booze in it? Seriously, depends what I feel like.
My contributions
User contributions: Stuff I've fiddled with.
Previous Contributions: Edits made on my old account.