Tony Plana

Miami Vice Characters

Born

April 19, 1952, Havana, Cuba (age 57)

Active

1978-present

Spouse/children

Ada Maris (1988-present), two children
Jose Antonio Plana (born April 19, 1952) is a Cuban actor and director. He appeared in the show Miami Vice as Cinco, who managed a club and was a hitman for Sally Alvarado (played by Michael Madsen) in the episode "Give a Little, Take a Little", and Ernesto Guerrero, policia chief in Chile (and terrorist working with a rogue DEA agent) in the episode "Baseballs of Death".
Early Life/Career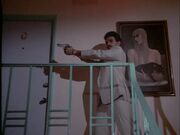 Plana was born in Havana, Cuba, the son of Pepe and Conchita, both bankers. The family fled Cuba for Miami in 1960, then to California after his father found employment there. Plana received his acting training at Royal Academy of Dramatic Art in London, then began his stage career in Los Angeles where he originated the role of Rudy in the play Zoot Suit, when it was made into a movie in 1981, he reprised his role (with Edward James Olmos). He got his television start in the comedy What's Happening, then in the TV movie The Streets of L.A. (with Miguel Piñero, Pepe Serna and Fernando Allende), followed by guest appearances in Quincy, M.E. (with Val Bisoglio), then made his movie debut in Seed of Innocence (with Vincent Schiavelli), followed by a role as Ensign Della Serra in An Officer And A Gentleman, then in Love & Money (with Jacqueline Brookes). His other notable films include Valley Girl, Three Amigos, Born In East L.A. (with Kamala Lopez), JFK (with Jay O. Sanders), and Nixon (with John Diehl).. His Vice related TV roles include 21 Jump Street, Falcon Crest (with Philip Baker Hall), Beauty and the Beast (with Ron Perlman), The Golden Girls (with Zach Grenier), a regular role on the short-lived series Bakersfield, PD (with Giancarlo Esposito) and Total Security (with James Remar), and Nash Bridges (with Don Johnson). His most recent TV appearances include Ugly Betty, Desperate Housewives, Harry's Law (with Bill Smitrovich), Law & Order: SVU (with Richard Belzer), Cristela (with Sam McMurray), Madam Secretary (with John Pankow), and The Blacklist (with David Strathairn) and Mayans MC (with Edward James Olmos).
Personal Life
Plana married actress Ada Maris (who appeared in an episode of Don Johnson's show Nash Bridges) in 1988, and they have two children: Alejandro and Isabel. He also has two brothers, Victor and Oscar.