Olivia Brown

Birthdate

April 10, 1960

Birthplace

Frankfurt, Germany

Miami Vice Role

Detective Trudy Joplin

Years active

1977-present

Spouse

Olivia Margarette Brown (born April 10, 1960 in Frankfurt, Germany) is an American actress. Her most famous role was that of Detective Trudy Joplin in Miami Vice.
Early Life and Acting Career
Brown's family relocated to Livonia, Michigan. She got into acting, and moved to Australia where she guested in several television movies and series. She made her American debut in 1982's 48 Hrs (featuring Brion James, David Patrick Kelly, Sonny Landham, James Remar and Jack Thibeau), and on television in guest roles on the police dramas T.J. Hooker and Hill Street Blues, as well as the short lived Cold War drama For Love and Honor. She also made an appearance in 1984's Streets of Fire (with her then-husband Mykelti Williamson and Bill Paxton).
Miami Vice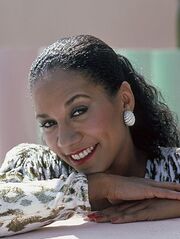 In 1984, Brown was cast as Detective "Big Booty" Trudy Joplin in the series Miami Vice. Brown's character was originally that of a "lure" for johns on the streets of Miami, but later her role evolved into being the information gatherer, utilizing computers, contacts, and other means to find out background information on suspects. Gina Calabrese was her partner both on the street and in the office, confiding in each other about the bumps in the road they encounter. Brown's character rarely went undercover (other than as a lure), but when she did she was very effective.
After Vice
After Miami Vice was cancelled in 1989, Brown found recurring roles in Designing Women, Beverly Hills 90210, Moesha, Lois & Clark, Dear John, and 7th Heaven. Her most recent movie appearances were in 2012's House Arrest and 2017's Our Dream Christmas. She made an appearance in the 2001 E! True Hollywood Story on Miami Vice.
Personal Life
Brown married Mykelti Williamson in 1983. They divorced in 1985 and had no children. Brown later married James Okonkwo and has two children. Brown's brother Steve played for the Houston Oilers in the 1980s and is currently the defensive coordinator at East Tennessee State University.