Michael Des Barres

Miami Vice Characters

Born

January 24, 1948, London, England

Active

1960-present

Spouse(s)/Child

Wendy Hamilton (1974, divorced)
Pamela Ann Miller (1977-1991, divorced), one son
Michael Philip Des Barres (born January 24, 1948, London, England) is an English actor and rock singer who appeared as part of the rock band The Power Station in the episode "Whatever Works", and as Shane DuBois, a pimp working with Cinder to extort money from johns in the episode "Baseballs of Death" of the series Miami Vice.
Career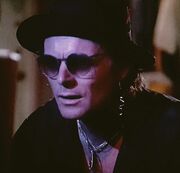 Des Barres' career began as an actor in British television, his American film debut was in the 1967 movie To Sir With Love, then he got into music around 1972, starting out in his band Silverhead, which toured the US, Europe, and Japan, as well as recording two albums before disbanding in 1974, when Des Barres began work with Detective, which lasted three years. He went solo, wrote the song "Obsession" with Holly Knight (which became a Top 10 single for the band Animotion), and joined the group Chequered Past when he met Duran Duran when Des Barres' band toured with the Simon LeBon-led group. When Robert Palmer left The Power Station to resume his revitalized solo career, Des Barres became their lead singer on their US tour, which included an appearance at Live Aid. Des Barres returned to his solo career after the tour (and group) ended, Des Barres was later offered to fill the late Freddie Mercury's spot as lead singer of Queen, but Des Barres declined, saying "he wasn't the right type of performer to replace Mercury".
Des Barres returned to acting, having a recurring role on the TV series MacGyver, Melrose Place, My Guide to Becoming A Rock Star and The New WKRP in Cincinnati, along with TV roles in The Rockford Files (with Joe Santos), St. Elsewhere, Sledge Hammer! (with David Rasche), 21 Jump Street, Seinfeld (with Michael Richards), The Commish (with Michael Chiklis), JAG, Ellen, Nash Bridges (with Don Johnson), NCIS, Charmed, Alias , and his most recent TV appearance in the rebooted MacGyver.
His movie appearances include California Solo (his most recent, with William Russ), Sugar Town (with Lucinda Jenney), Under Siege, Pink Cadillac (with Jimmie F. Skaggs), and The Goonies.
Personal Life
Des Barres married Wendy Hamilton in 1974 but the union ended in divorce shortly thereafter when he met infamous rock groupie Pamela Miller, they married in 1977 until their 1991 divorce, they have one son, Nicholas Dean Des Barres (born 1978) who was GameFan magazine's "Nick Rox" and now writes games for the developer PlatinumGames.