Miami Vice is an upcoming 2020s television series to be executive produced by Vin Diesel for the NBC network. The project, a reboot of the original 1980s TV series, has been in development for several months as of early 2018 and is being spearheaded by Shana Waterman, the former Fox Broadcasting executive who now serves as head of television for Diesel's One Race Television production company.
Development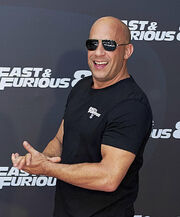 The prospective Miami Vice reboot will reunite Vin Diesel with Fast & Furious screenwriter Chris Morgan, and is the first project to come out of Diesel's first-look deal with Universal Television. The series will be executive produced by Diesel, Shana Waterman, Chris Morgan, and Ainsley Davies. It has been reported that it was Diesel himself who came up with the idea to revive Miami Vice and made a personal appeal to NBC Entertainment president Jennifer Salke in an effort to get the project off the ground.
Of the prospective reboot, Don Johnson has said, "I kind of feel they'll do a version of Miami Vice, but it's not going to be Miami Vice. Because the show was very specific to a time and place, and a social and cultural happening, at that time. It was in the press every day -- these reports about drug deals and drugs coming through Miami in the thousands of pounds, and stuff like that, and I think that really fuelled the interest, made it all mainstream. And that's not the case now. And fashion, of course, whereas we put a spotlight on men's fashion, and women's, now fashion is in your face everywhere. So, you kind of don't want to go into something trying to reinvent the wheel!"
On November 13, 2018, a teaser trailer for the series was released via YouTube. The video features a black Lamborghini Countach driving through the Miami night, set to "In the Air Tonight" by Phil Collins -- an obvious nod to the famous "In the Air Tonight" scene in the pilot episode of the original series, "Brother's Keeper" (clips of which also appear in the video).
As of now (apart with some teasers), there isn't any more news related to the reboot (presumably due to the Coronavirus Pandemic on the same year the Reboot was supposed to premiere).