Ma Sek

Affiliation

Husband to

May Ying

Father of unnamed son (died 1988)

Born

1955

Status

Incarcarated, Murder

Episodes Appeared In

Played By

Ma Sek (born 1955) was the husband of Martin "Marty" Castillo's ex-wife May Ying, whom she married after Castillo left Thailand (assuming she was killed in the ambush led by Dale Menton). They later had a son and relocated to Miami when Ma Sek got a job with the Consolidated Textiles company, which was actually a corporate front for drug lord General Lao Li, and a way to prevent Castillo from moving against the General by threatening to kill May Ying and her family. After Lao Li and his family were arrested, Ma Sek and his family returned to Asia.
In 1988 May Ying was in a car accident with a drunk driver in Rio de Janeiro, she survived but their son was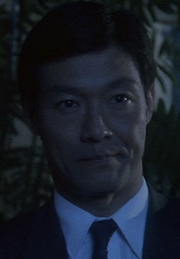 killed, and she blamed herself, but so did Ma Sek. They then moved to Ecuador where Ma Sek was involved with the Rivas drug cartel, they attempted to kill Ma Sek and rape May Ying but she escaped and they took separate flights to Miami, where she sought out her former husband for help, which angered Ma Sek, and his jealousy toward Castillo began to flare up. Ma Sek was working with another Castillo connection, Malcolm Grey, head of SA Phoenix, and at a dinner Ma Sek admitted to stealing money from the Rivas (which is why they were after him & May Ying) because he feared being cut out by Grey and his partner, but Ma Sek had laced their drinking glasses with poison, and both died during the dinner. Ma Sek had set up Rivas by giving May Ying false information, knowing she would divluge it under pressure. Ma Sek was working with a partner named Dimitri who plans to get out of the country with Rivas' money, but May Ying finds him and Ma Sek admits all to her, but he discovers his wife was wired, feels Castillo was responsible and begins choking his wife, but runs when confronted by Tubbs, then Switek, and finally Castillo, who defeats Ma Sek in a martial arts showdown, and is arrested for his activities.