Jay-Z

Miami Vice Performer

Born

December 4, 1969, New York City, New York

Active

1986-present

Spouse(s)/Children

Beyoncé (2008-present), 3 children

Shawn Corey Carter (born December 4, 1969), known professionally as Jay-Z, is an American rapper, entrepreneur, songwriter, and record producer whose song "Numb/Encore" (with Linkin Park) was featured in the Miami Vice film, the first song featured in the movie.
Collaboration with Linkin Park
Edit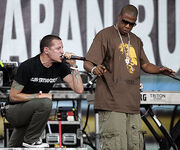 Created as part of the MTV Mash Ups series, the collaboration between Jay-Z and Linkin Park began when Jay-Z contacted the band's principal songwriter, Mike Shinoda, about a mushup project. They soon decided that they would prefer to re-record their respective contributions rather than simply attempt to make existing songs fit together, hoping to give the songs better flow and continuity. Jay-Z and Shinoda re-recorded their rap vocals to fit the new beats, and the remaining members of Linkin Park also recorded new instrumental and vocal tracks to match. The album that resulted, Collision Course, was completed in just four days. The collaboration disbanded after the album, although Jay-Z has worked with Shinoda on some of his solo efforts since.
Community content is available under
CC-BY-SA
unless otherwise noted.