Ernest Robinson is an American stuntman who doubled for Philip Michael Thomas on the series Miami Vice. He also made a brief appearance as Ricardo Tubbs' ill-fated brother Rafael in the episode "Brother's Keeper".
The majority of Robinson's credits involve his work as a stuntman, although he also appeared in minor acting roles throughout his career. He performed stunts on some of the most successful films of the 1970s and early 80s, including Dirty Harry (in which he also took a small role as a robber), Earthquake and the second Star Trek movie, The Wrath Of Khan.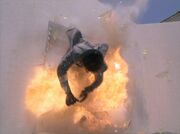 Robinson's stunt double work came to an end in 1986 when he was injured in an accident on the set of Miami Vice, burning his legs when an explosion was detonated too soon, catching him in the fireball; footage of this accident is actually included in the episode "Baby Blues". Following his injury, Robinson focussed on acting roles, and also worked as a cameraman.
Filmography
Edit
Halls Of Anger (1970, stuntman)
Dirty Harry (1971, first acting appearance)
Lady Sings The Blues (1972)
What's Up, Doc? (1972, stuntman)
The Final Comedown (1972)
The Black Six (1973, stuntman)
Earthquake (1974, stuntman)
Black Samson (1974)
The Gumball Rally (1976, stuntman)
That God It's Friday (1978, stuntman)
The Dark (1979)
The Island (1980, stuntman)
First Family (1980)
Star Trek II: The Wrath Of Khan (1982, stuntman)
Zapped! (1982, stuntman)
Brainstorm (1983, stuntman)
Lovelines (1984)
Miami Supercops (1985, final acting appearance)