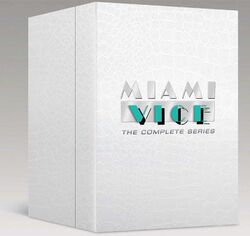 All five seasons of Miami Vice have been released on DVD in Regions 1, 2, and 4 by Universal Studios Home Entertainment, starting in 2005. There was a significant delay in the show coming to DVD owing to the difficulty involved in securing release rights/clearances for the huge number of songs featured in almost every episode, but Universal indicated from early on that they would not release Miami Vice unless all of its original music was intact (as opposed to many other shows, which either change music that cannot be cleared or simply cut scenes featuring music altogether rather than pay for expensive release rights).
In America, the Season 1 and Season 2 releases each consisted of three double-sided discs, a decision that drew some criticism. Universal apparently heeded these complaints, and Season 3, Season 4 and Season 5 came on five single-sided discs per season. Releases in other regions copied the latter single-sided disc format, Season 1 set spread across eight discs and with Seasons 2-4 presented on six discs. The DVD sets do not contain any special features with the exception of Season 1; the set contains four short making-of featurettes, "The Vibe of Vice", "Building the Perfect Vice", "The Style Of Vice" and "The Music of Vice", as well as a brief documentary entitled "Miami After Vice", which is actually about the city itself rather than the show. A combined set of Seasons 1 and 2 was released in Region 2 only.
On November 13, 2007, Universal released the complete series in America, consisting of the five separate season sets grouped together in one suede-lined box, with Seasons 1 and 2 now presented on single-sided discs in line with the latter seasons. The Region 2 equivalent, housed within unique packaging, was actually released several weeks earlier, and although the packaging does not list any special features, it includes the same featurettes as the Season 1 set. Both the original releases and the box set are out of print, but can be obtained on EBay and Amazon.
In 2016, Mill Creek Entertainment obtained the DVD rights to Miami Vice, and re-released Seasons 1-2 in remastered form (NOT Blu-Ray) on May 3, 2016 with all original music intact and in Dolby Surround 5.1. On October 4th, 2016, Mill Creek released the entire series on Blu-Ray for the first time, remixed in Dolby Surround 5.1 as well as re-releasing the complete series on standard definition.
Release Dates
DVD Name
Ep#
Release Date
Region 1
Region 2
Region 4
Season 1
22
February 8, 2005
April 25, 2005
July 13, 2005
Season 2
22
November 22, 2005
July 24, 2006
July 20, 2006
Season 3
24
March 20, 2007
May 14, 2007
July 5, 2007
Season 4
22
March 20, 2007
August 13, 2007
December 4, 2007
Season 5
21
June 26, 2007
December 26, 2007
July 29, 2009
Seasons 1 & 2
44
N/A
November 27, 2006
N/A
The Complete Series
111
November 13, 2007
October 8, 2007
N/A
Seasons 1 & 2
44
N/A
November 27, 2006
N/A
Season 1 (Re-release)
22
May 3, 2016
N/A
N/A
Season 2 (Re-release)
22
May 3, 2016
N/A
N/A
The Complete Series (Blu-Ray)
111
October 4, 2016
N/A
N/A
The Complete Series (re-release)
111
October 4, 2016
N/A
N/A