Brothers in Arms

Featured in Episode

Artist(s)

Top Chart Position (Hot 100)

Did Not Chart

Year Released

1985

Album

Brothers in Arms

Writer(s)

Mark Knopfler

RIAA Certification

NONE

Sequence song appears

End sequence where Crockett and Tubbs meet Weldon at building

Previous Song

Next Song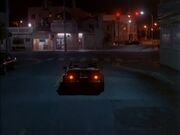 "Brothers in Arms" is a song by Dire Straits, featured on the album Brothers in Arms in 1985 and released as a single that year. It appeared in the Miami Vice episode "Out Where the Buses Don't Run".
Notes
"Brothers in Arms" is often claimed to be the first CD single ever released; it went on sale on 14 October 1985 in the United Kingdom.
"Brothers in Arms" is arguably the longest song sample used on Miami Vice; almost all of the nearly eight-minute track is featured in the episode. However, it could be argued that Chris de Burgh's "Leader Trilogy" from "Everybody's in Showbiz" is longer, clocking in at eight-and-a-half minutes, although it is technically comprised of three separate tracks ("The Leader", "The Vision" and "What About Me?") that make up one continuous piece of music.
The album Brothers in Arms was one of the biggest hits of 1985. Like the single of the same name, it was one of the first albums to be issued on CD, a fact often closely attributed to its huge success. It also featured Dire Strait's only US #1 song, "Money For Nothing". In the UK, the Brothers in Arms album is still the fifth highest-selling album in chart history, and it remains one of the best-selling albums of all time globally.
The scene in which the song is used is rated by many Miami Vice fans as one of the most moving of the whole series. The segment depicting Crockett and Tubbs driving through the night is also highly reminiscent of the famous "In The Air Tonight" scene from the pilot episode.
Aside from Miami Vice, the song has been used extensively in film and television:

The 1991 war drama McBain, starring Christopher Walken, begins with the song.
It was used as the theme tune to the British drama series Civvies.
It was featured in the episode "I Coulda Been a Defendant" of Canadian comedy-drama Due South.
It appeared in the 2001 film Spy Game, starring Robert Redford and Brad Pitt.
Acclaimed drama The West Wing used the song at the end of its season 2 finale, "Two Cathedrals".
It was used in the 2008 movie What Just Happened, starring Robert De Niro.
The song has also been used in non-fictional works; one of the most famous pieces of video footage from the Croatian War Of Independence, Banijska ratna praskozorja (Banija war dawns), features "Brothers in Arms" in the background.
Personnel
Mark Knopfler - guitars, vocals
John Illsley - bass, vocals
Alan Clark - Keyboards
Guy Fletcher - guitar, vocals
Terry Williams - drums