The 1989 Viewer's Choice Call-in Poll refers to a phone-in viewer poll that NBC ran during the broadcast of the "lost" episode "Leap of Faith" that allowed viewers to choose which episode of Miami Vice would be repeated the following week (on July 5, 1989). The poll occurred because NBC elected not to air the fourth and final "lost" episode "Too Much, Too Late" due to its' controversial content involving child molestation. Despite the pulling of this episode, many contemporary TV listings still listed "Too Much, Too Late" as airing on July 5.
Viewers called in using specific 900 numbers for the episode of their choice. Each call cost 50 cents (billed to the individual's telephone bill) and had to be in by Thursday, June 29, 1989, at 9am. The three choices were shown by an actress posing as a secretary with the "NBC programming department" who was told to choose the next week's 
Vice
episode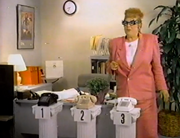 but instead told the viewing audience to make that choice. The three episodes were:
The winner (per other contemporary TV listings) was "Jack of All Trades" and it aired at 10pm on Wednesday, July 5, 1989. At 9:30pm on the same day a pilot episode for a new NBC comedy aired, The Seinfeld Chronicles, which would later launch the classic TV comedy Seinfeld.  Three weeks later, on July 26, 1989, the repeat episode "Fruit of the Poison Tree" aired, the last Miami Vice episode that aired on network television during the original run.